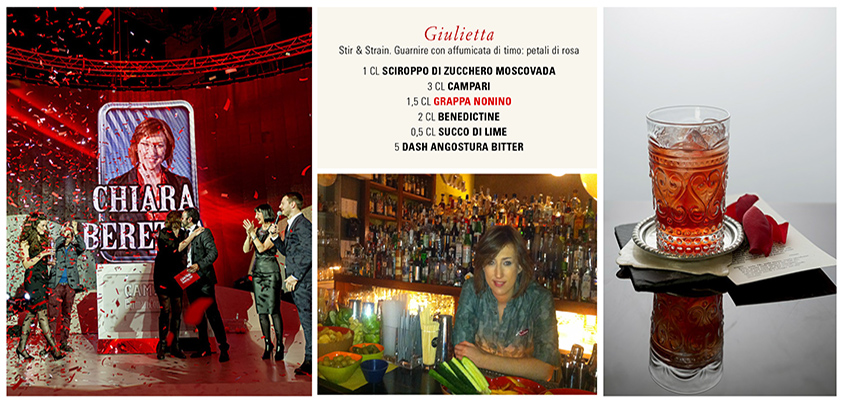 Chiara Beretta Barman of the year 2014
"Giulietta" the Cocktail of passion has granted the victory of Chiara Beretta, the extraordinary bar-lady from Milan, who won the first title of "Campari Barman of the Year 2014" routing as many as 499 competitors coming from all over Italy.
Extraordinary Chiara! Born in 1987, graduated in letters, she is the bartender of the famous Rita of Milano.
A career made of commitment, talent, passion and enthusiasm! An enthusiasm that has become overwhelming for all of us when Chiara, who we contacted to congratulate, wrote us: "… Grappa in the drink was certainly the ingredient that made me win, therefore, thank you for bringing me luck! …".
THANK YOU CHIARA!!! HURRAY CHIARA!!!! HURRAY!!!!
Here is the winning recipe of Chiara Beretta's "Giulietta":
1cl. muscovado sugar syrup; 3 cl. Campari; 1.5 cl. Grappa Tradizione Nonino; 2 cl. Benedictine; 0.5 cl. lime juice; 5 dashes angostura bitter. Method: Stir & Strain. Garnish with smoked thyme; rose petals.