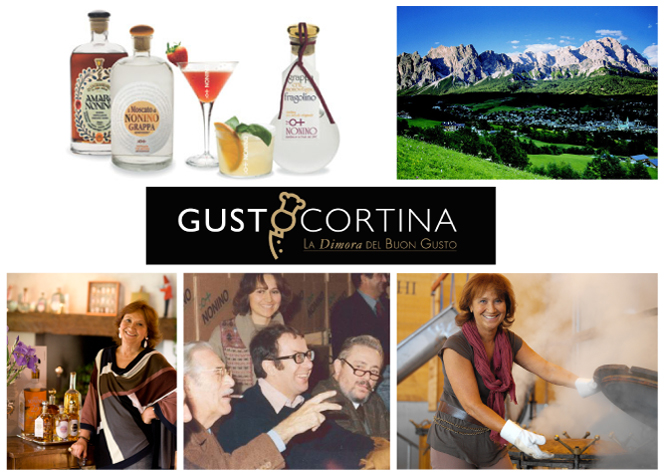 Giannola Nonino, Cavaliere del Lavoro, and Grappa and ÙE® Nonino Monovitigno® are the protagonists at Gusto Cortina 2013
Giannola Nonino and the Nonino Spirit will be the protagonists of the edition Gusto Cortina 2013, the international showcase of the best gourmet and wine-and-tourist Italian production, which will be held in Cortina d'Ampezzo from 16th to 17th June 2013.
In the wonderful Conca of Ampezzo, lighted up by an endless symphony of greens and color, Giannola Nonino will welcome you to guide you to the discovery of the wonderful world of the Nonino Artisanal Distillation in the occasion of the celebration of the forty years of Monovitigno® Grappa Nonino, which revolutionized the World of Grappa.
We shall start on Saturday 15th June with the OPENING PARTY in the exclusive VIP CLUB of Cortina in Corso Italia 207 toasting with Grappa and ÙE® Monovitigno® Nonino served fresh or in fabulous Cocktails following the recipes of international mixologists and made by the bartender Davide Girardi. We will continue with the tastings at the Hotel de la Poste and at the Hotel Vittoria on Sunday 16th and Monday 17th June, as well as the dinners in private houses that will be the occasion to better know an excellence of the made in Italy through the sensory experience of the different Monovitigno® Nonino from the elegant aromatic and floral bouquets to the most sensual and fruity ones, up to the rich and persistent Riserva.
HURRAH!!!!!
http://gustocortina.it/levento/
Above, from left:
1. Some cocktails that will be proposed at Gusto Cortina 2013, the Summertime and the Sicily.
2. Cortina: the wonderful location.
Below, from left:
3. Mrs. Giannola Nonino with her jewels, Grappa and ÙE® Monovitigno® Nonino.
4. Mario Soldati, Luigi Veronelli and Gianni Brera with Giannola Nonino at the Nonino Prize 1978.
Mario Soldati and Gianni Brera, members of the jury of the Nonino Prize, Friends of the Nonino Family and great connoisseurs of the Cigar.
On Monday, 17th June on the terrace of the Hotel de la Poste at 17:00, Fanticelli and Giannola Nonino will have a "smoky" meeting among cigars and alcoholic fumes … with the tasting of ÙE® Nonino Anniversary Riserva Monovitigno® aged in barrique over 5 years and Grappa Nonino Riserva AnticaCuvée® ages in barrique and Toscano cigars.
5. Mrs Giannola Nonino during a moment of the artisanal distillation with the company's batch steam stills.