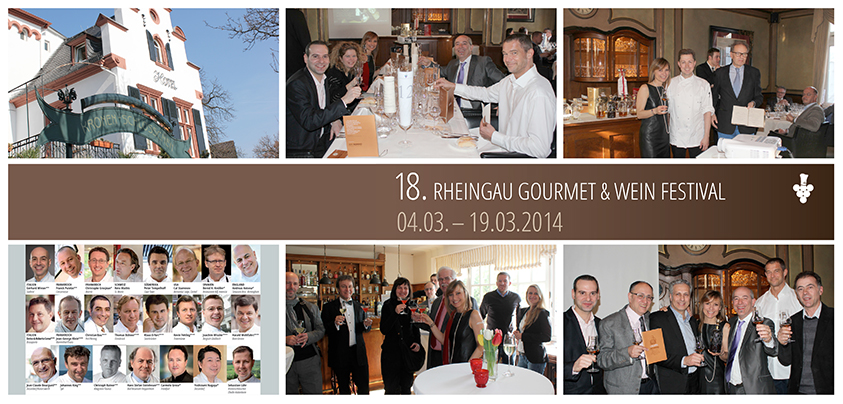 Grappa Nonino at Rheingau Gourmet & Wein Festival
Nonino Master Tasting at the prestigious "Rheingau Gourmet & Wein Festival" with the tasting of 9 Grappa and Riserva Nonino coupled to the dishes prepared by the chef Sebastian Lühr, 1 Michelin star.
The festival, now at the 18th edition, is one of the most important international gourmet festivals where only products of excellence are presented, the night before the Nonino Master there was the tasting of 30 years of Cheval Blanc.
The tasting made by Antonella Nonino, which was soon sold out, gave the guests – among whom Justin Leone, sommelier of the Restaurant Tantris of Munich – the chance of tasting the grape distillate Nonino ÙE Malvasia, the fruit distillate Pirus, the honey distillate Gioiello® and the Nonino Riserve: Grappa Nonino Riserva AnticaCuvèe®, Grappa Nonino Riserva 8 Years in barriques, the Grape distillate Nonino ÙE® Anniversary 5 Years in barriques, ÙE® Riservas aged 14 and 18 years and the Gran Riserva Nonino aged 26 years in barriques, products that are unique for innovation and research.
In the bottom-right picture, from left: Enrico Resta sommelier of the Restaurant Carmelo Greco – 1 Michelin star.
Luigi Cavallo, sommelier of the Restaurant Burg Schwartzenstein – 1 Michelin star.
Leonardo, chef of the Restaurant Brighella in Frankfurt.
Antonella Nonino.
Giuseppe Maniaci, owner of the Restaurant da Gianni in Mannheim – 1 Michelin star – with his chef  Thorsten Wittman.
Special thanks also to the director of the Restaurant Kronenschlösschen: Helge Hagen.