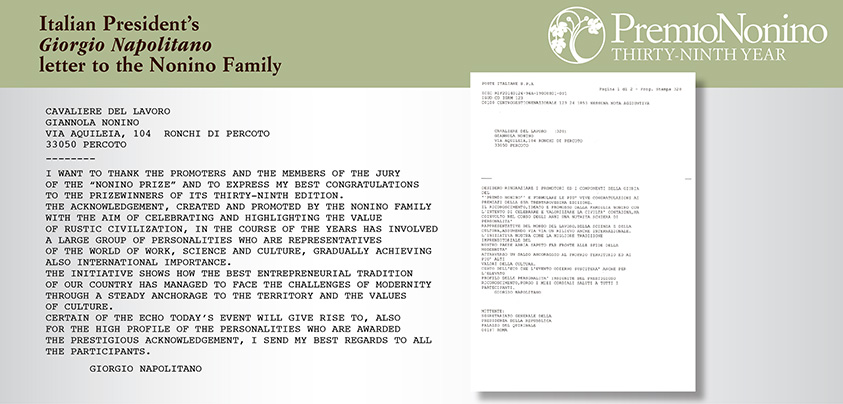 Italian President's Giorgio Napolitano letter to the Nonino Family
We are honored and proud of sharing the letter that the President of the Italian Republic, Giorgio Napolitano, sent us on the occasion of the Nonino Prize 2014, in which he praises the work made in all these years to celebrate and give value to rustic culture and civilization.
Benito, Giannola, Cristina, Antonella ed Elisabetta Nonino
Text of the letter:
CAVALIERE DEL LAVORO
GIANNOLA NONINO
VIA AQUILEIA, 104  RONCHI DI PERCOTO
33050 PERCOTO
——–
I WANT TO THANK THE PROMOTERS AND THE MEMBERS OF THE JURY OF THE "NONINO PRIZE" AND TO EXPRESS MY BEST CONGRATULATIONS TO THE PRIZEWINNERS OF ITS THIRTY-NINTH EDITION.
THE ACKNOWLEDGEMENT, CREATED AND PROMOTED BY THE NONINO FAMILY WITH THE AIM OF CELEBRATING AND HIGHLIGHTING THE VALUE OF RUSTIC CIVILIZATION, IN THE COURSE OF THE YEARS HAS INVOLVED A LARGE GROUP OF PERSONALITIES WHO ARE REPRESENTATIVES OF THE WORLD OF WORK, SCIENCE AND CULTURE, GRADUALLY ACHIEVING ALSO INTERNATIONAL IMPORTANCE.
THE INITIATIVE SHOWS HOW THE BEST ENTREPRENEURIAL TRADITION OF OUR COUNTRY HAS MANAGED TO FACE THE CHALLENGES OF MODERNITY THROUGH A STEADY ANCHORAGE TO THE TERRITORY AND THE VALUES OF CULTURE.
CERTAIN OF THE ECHO TODAY'S EVENT WILL GIVE RISE TO, ALSO FOR THE HIGH PROFILE OF THE PERSONALITIES WHO ARE AWARDED THE PRESTIGIOUS ACKNOWLEDGEMENT, I SEND MY BEST REGARDS TO ALL THE PARTICIPANTS.
GIORGIO NAPOLITANO