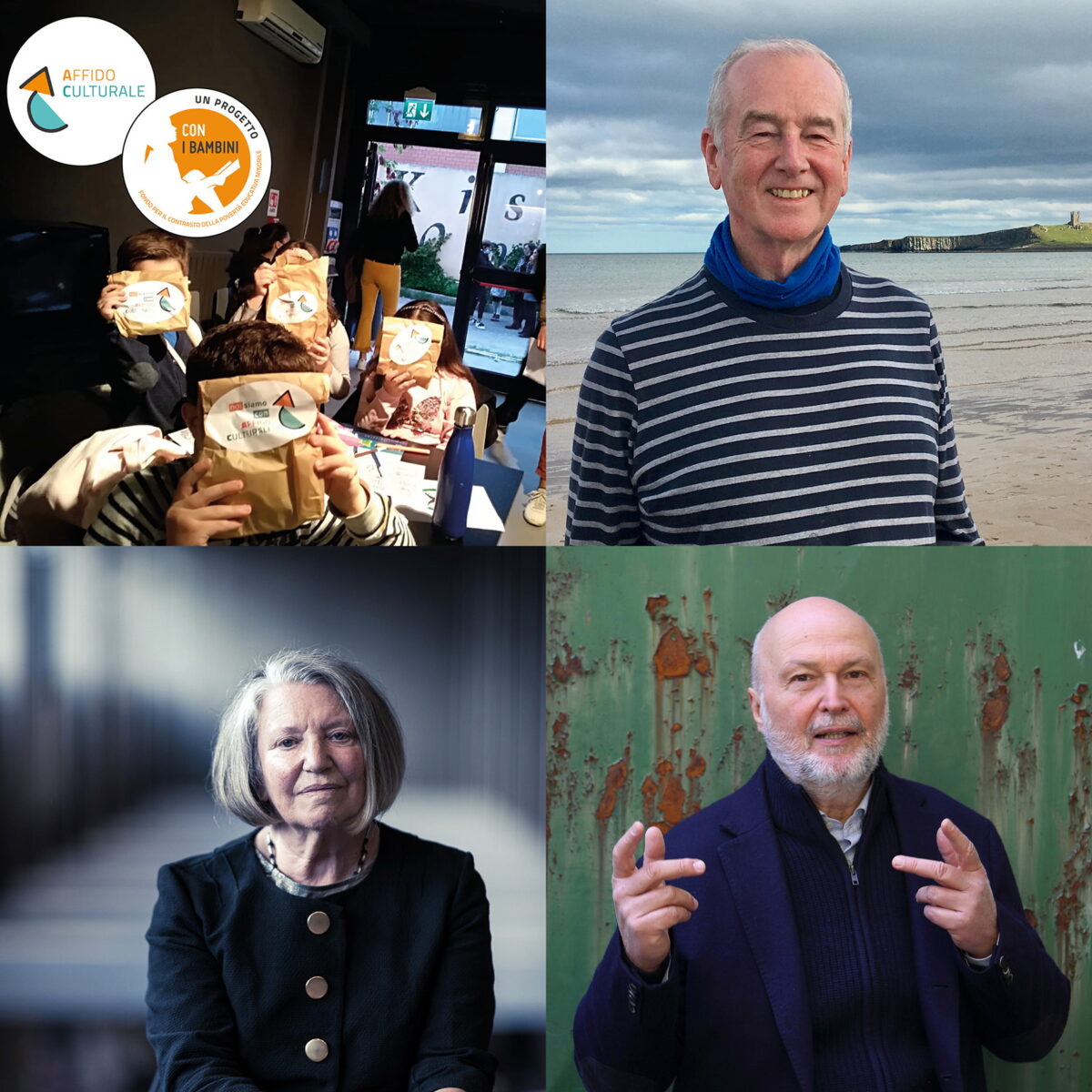 Nonino Prize 2022 Winners
The Jury of the Nonino Prize, presided by Antonio Damasio and composed by Adonis, Suad Amiry, John Banville, Peter Brook, Luca Cendali, Emmanuel Le Roy Ladurie, James Lovelock, Claudio Magris, Norman Manea and Edgar Morin, has awarded the Nonino Prizes Forty-fifth year + Two as follows
NONINO RISIT D'AUR PRIZE -GOLD WINE SHOOT 2022 to AFFIDO CULTURALE
NONINO INTERNATIONAL PRIZE 2022 to DAVID ALMOND
NONINO PRIZE 2022 'MASTERS OF OUR TIME' to NANCY FRASER and MAURO CERUTI
MOTIVATIONS
Nonino Risit D'aur Prize – Gold Vine Shoot 2022
To AFFIDO CULTURALE
To 'entrust' in its etymology means to preserve, watch and then give back one's faith and knowledge. This is the case for the Cultural Foster Care, a project selected by the social enterprise Con I Bambini, in the context of the Fund for the fight against juvenile educational poverty; it started from the city of Naples, and proposes to mobilize "resource families" against educational poverty, enhancing the experience of family foster care, but declining it on the specific of the use of cultural products and services. The basic idea is very simple. A parent, who usually takes his or her children to the cinema, the theater, a museum or a bookstore, also takes a child – possibly with a member of the latter's family – who would not enter these places for different reasons. To date, the project is active in seven Italian cities: in addition to Naples, there will be Rome, Bari, Modena, Milan, Teramo and Cagliari.
Nonino Internrnational Prize 2022
To DAVID ALMOND
A writer's talent is a gift from the gods, but a talent to write for children and be understood and appreciated by them is a double gift. David Almond is one of those – rare – doubly gifted writers. His classic novel for young persons, Skellig (Salani), has been translated into forty languages, has been adapted for stage, radio and the screen. There is even an opera based on it. But today we want to mention especially his latest novel, War Is Over, a very moving tale set during what used to be called the Great War—World War One. The central character, John, cannot understand how, since he is a child, he can be 'at war', as his teacher assures him he is. John's father is fighting in the trenches, and his mother works in a munitions factory. One day, John meets a little boy like himself—like him, except that Jan is a German. It is a very moving story, lent additional pathos in these days, when we see every night on our television screens the terrified eyes of the children of Ukraine. But War Is Over is full of hope for the future in which children like John will grow up still asking the question: How can I be at war with my fellow man? As David Almond has said, 'When I write stories, I feel a connection with the very young, who will build a better tomorrow.' David Almond stories together form a thread of hope.
Nonino Prize 'Masters Of Our Time' 2022
To NANCY FRASER
To the American thinker Nancy Fraser whose non-conformist thinking is all the more valuable in a conformist world. In addition to her important contributions on the theme of 'recognition', Nancy Fraser addresses the problems of injustice, in particular, the structural injustices that pervade our society and align with social divisions such as gender, race/ethnicity, and class. As a critical theorist, she analyzes such injustices, reveals their root causes, and suggests how they might be remedied. To be a feminist, in her words, simply means "assuming that gender injustices exist and are pervasive and structurally grounded; that they are 'wrong'; and that in principle they can be overcome".
To MAURO CERUTI
Many things could and should be said about Mauro Ceruti and his work, for the incredible variety and richness of his research, which grabs by the throat the problems, the contradictions, the enrichment and cultural devastation of our lives, of the whole world. Ceruti makes us feel how each of us is faced with a bewildering universality of things, of forces, of realities that enrich stun and frighten; reading his books is like discovering that the apparent simplicity of the things around us and of all the usual reality is as big and complex as the universe. His books help us not only to know the small and large infinity in which we flounder about, but also not to fear it, to feel its enrichment for our person. From this feeling and concept of cosmic complexity derives a profoundly humanistic, or rather human, sense of the community of destiny which, as Ceruti writes, binds all individuals of all the peoples of the earth to the global ecosystem.
The delivery of the Prizes will take place at Distillerie Nonino in Ronchi di Percoto, on Saturday 7th May 2022 at 11:00, the awarding ceremony of the prizes through the live streaming on the website: grappanonino.it starting at 12.15.