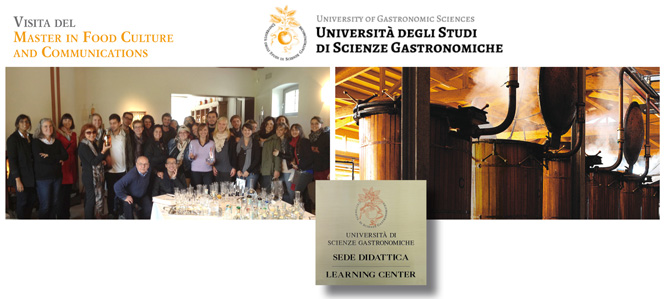 The University of Gastronomic Sciences' students, founded in 2004 by Carlo Petrini, visited Nonino's Distillery
The 24 students of the Master in Food Culture and Communications coming from all over the world, accompanied by the tutors Alice Fabi and Maddalena Relli, last November 5th came to visit the Nonino Distilleries at Ronchi di Percoto – the didactic seat of the first Italian University in Gastronomic Science – in order to study the production process with artisanal method of Grappa Nonino, an example of the Made in Italy of excellence.
The students, guided by Antonella Nonino, after the visit to the distillery followed the historical stages of the company and concluded with a toast in which Grappa Nonino Cru Monovitigno® Picolit was coupled with Bagatto San Daniele raw ham aged 24 months and fig 'mostarda'. An excellent way to celebrate the 40 years since the creation of Grappa Nonino Cru Monovitigno®Picolit, which in December 1973 marked the turning point in the way of producing and introducing grappa in Italy and in the World.