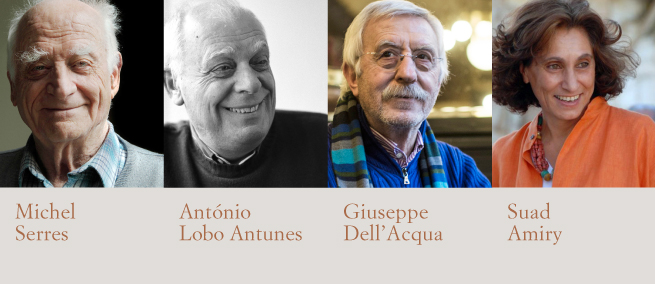 The winners of the Thirty-ninth Nonino prize have been announced
The Jury of the Nonino Prize, presided by V.S. Naipaul, Nobel Laureate for Literature 2001, and composed by Adonis, Peter Brook, John Banville, Ulderico Bernardi, Luca Cendali, Antonio R. Damasio, Fabiola Gianotti, Emmanuel Le Roy Ladurie, James Lovelock, Claudio Magris, Norman Manea, Morando Morandini, Edgar Morin and Ermanno Olmi has awarded the Nonino Prizes Thirty-Ninth year as follows:
NONINO RISIT D'AUR PRIZE 2014 to SUAD AMIRY
INTERNATIONAL NONINO PRIZE 2014 to ANTÓNIO LOBO ANTUNES
NONINO PRIZE 2014 to GIUSEPPE DELL'ACQUA
NONINO PRIZE 2014 MASTER OF OUR TIME to MICHEL SERRES 
The awarding of the Prizes will take place at Distillerie Nonino in Ronchi di Percoto on Saturday 25th January 2014 at 11:00 with the participation of Adonis, Antonio R. Damasio, John Banville, Emmanuel Le Roy Ladurie, Claudio Magris, V.S. Naipaul, Ulderico Bernardi and Ermanno Olmi.
We are going to taste with Grappa Nonino Cru Monovitigno® Picolit, to celebrate Forty Years of Monovitigno® Nonino: the Grappa revolution.