Grappa
---
Vendemmia Riserva 18 Months
---
Well thought blend of Grappas from fresh pomace. Aged over 18 months in barriques and small casks. Elegant and persistent, with scents of vanilla, pastry and chocolate.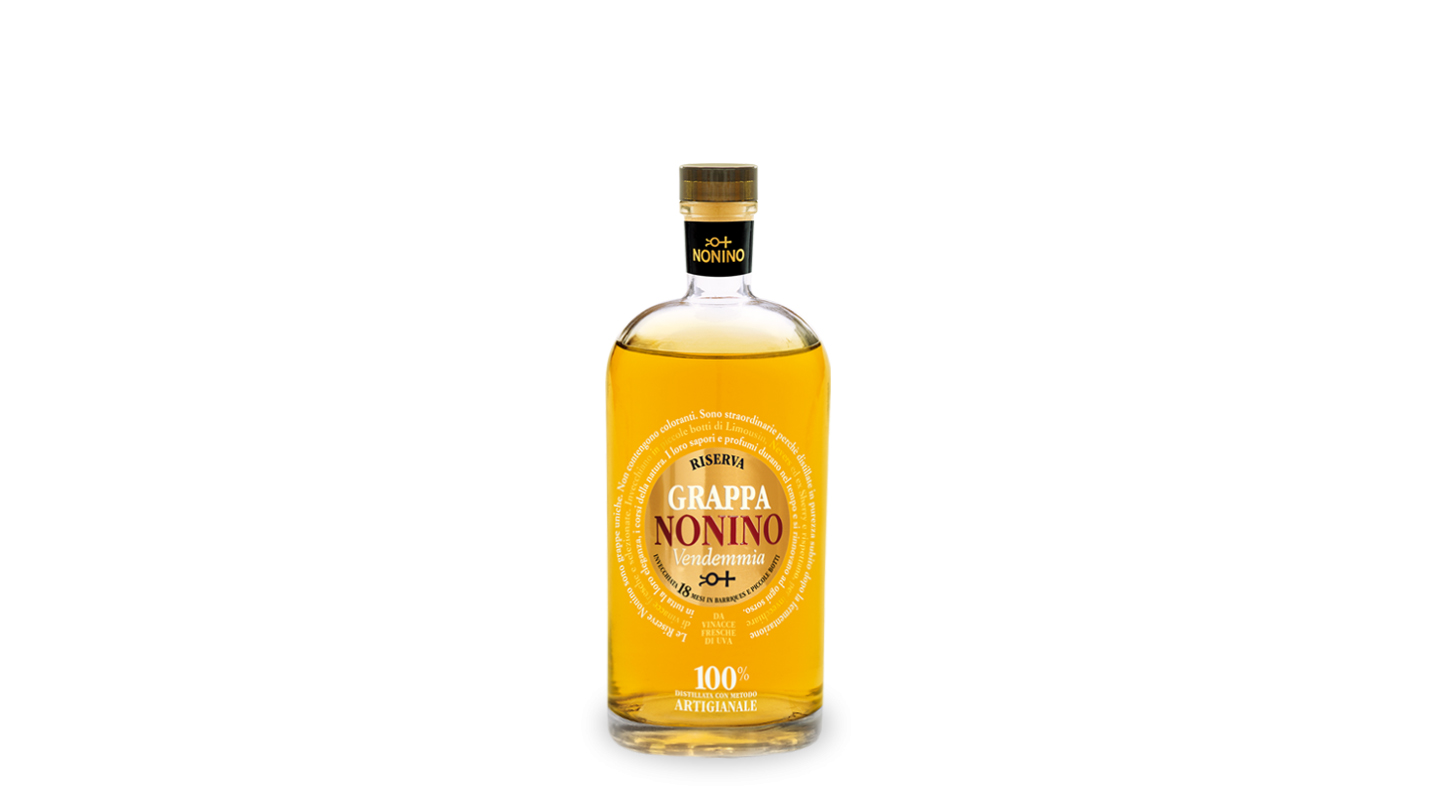 Natural ageing in barriques and small casks in the Nonino cellars, under seal and permanent surveillance by the Customs and Monopoly Agency. Bottled without color additives.
Ageing is carried out through the rest of Grappa in wood, which modifies its sensorial profile both by the action of the oxygen that reaches the distillate through the porosity of the wood itself, and through the impact of the substances that the wood slowly releases to the product, enriching it.
Primary Product

Precious Friulian selected pomace, harvested fresh and soft and carefully destalked.

Artisanal Distillation

Discontinuous with head and tail cutting, in copper steam stills.

Natural aging

Over 18 months in barriques and small casks. 0% color additives.

Bottling

Bottle in transparent glass 50, 350, 500 700, 2000 ml.

Taste Sentation

It should be served at room temperature in a wide balloon type glass.

Tasting

Elegant and persistent.

Primary Product
---
Precious and selected Friulian pomace, harvested fresh and ripe and carefuly destalked.

«the grape harvest year … Is taken into consideration, as it is the initial fact of production» Luigi Veronelli, Veronelli Dictionary of the terms of wine and spirits – 1992
Fermentation
---
Under vacuum in stainless-steel tanks at controlled temperature, immediately
followed by distillation in order to avoid harmful secondary fermentations.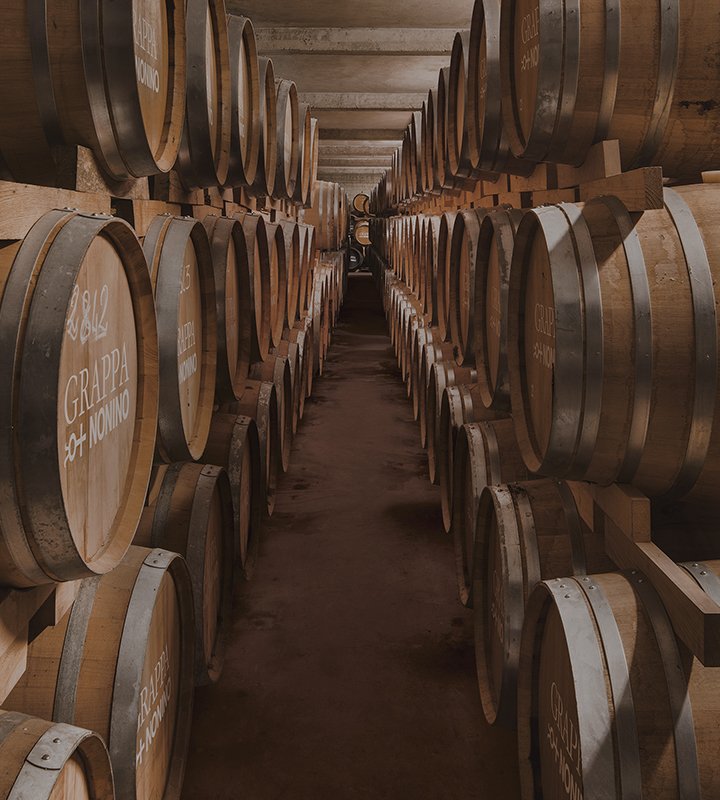 Natural Ageing
---
Over 18 months in Limousin and ex-Sherry barriques without color agents; respecting the course of
nature to mature in all its elegance.
Bottled without color additives.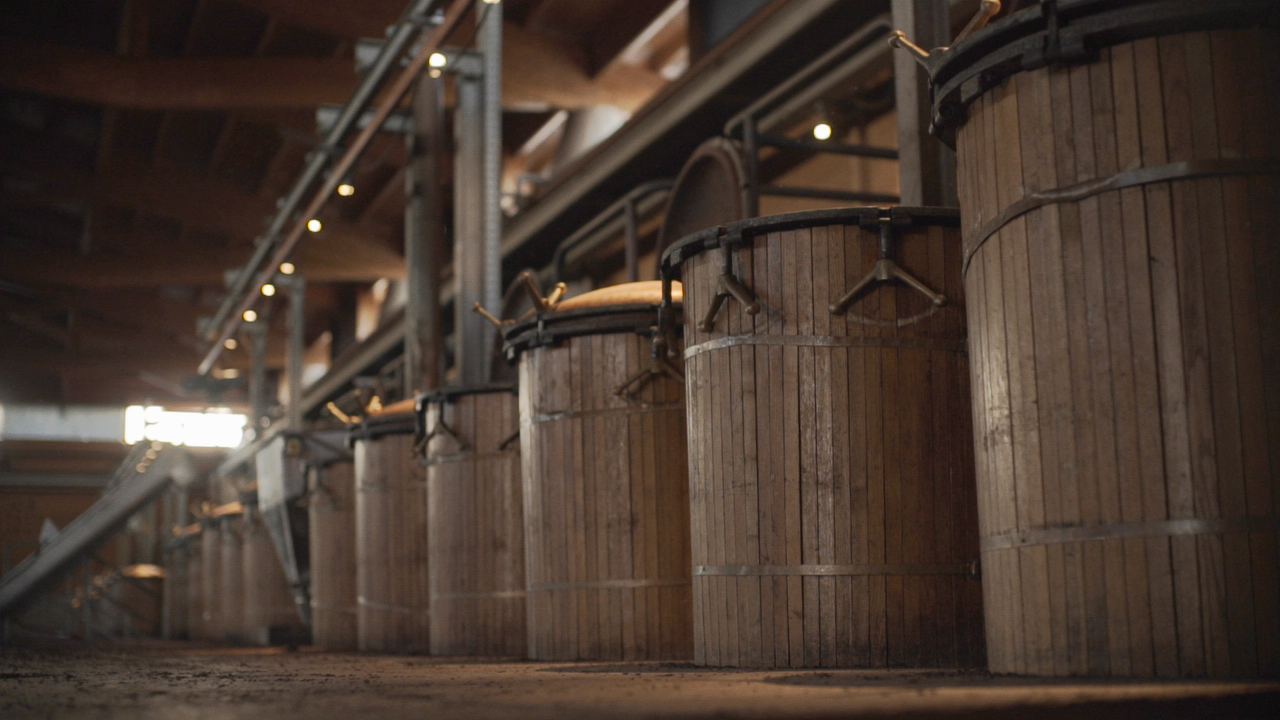 100% Distilled with artisanal method
---
Batch method in exclusive copper steam stills, the result of Benito Nonino's innovation and continuous research, which with the elimination of heads and tails allows the selection of the purest part of Grappa: the heart. @ Distillation takes place very slowly to allow the volatile components, responsible of the fragrances, a proper evaporation and the consequent condensation preserving the precious organoleptic characteristics of vine variety chosen.
Sensations
---
Visual sensation – Clear and amber color with golden reflections.
Olfactory sensation – Elegant with scents of vanilla, pastry, chocolate and spices.
Tasting sensation – Rich, velvety and enveloping.
Combinations
---
Nonino Grappa Vendemmia Riserva is the perfect end to a meal, perhaps accompanied by a good cigar, as an accompaniment while reading or to be savoured with one's friends. Perfect with chocolate and hot chocolate-based desserts or foie gras.